From a coat of paint to starting from scratch, these kitchens embrace the country way with modern life in mind.
Farmhouse kitchens are a true food-lover's dream. Not only is there a steady supply of home-grown fruit, vegies and herbs and freshly laid eggs but there's also usually an abundance of space – designed for all of the farmers and their farmhands to gather around comfortably for a hearty lunch before heading back to work. Transforming a dated country kitchen into a modern, functional gathering space requires balance and care. On one hand, you don't want to renovate to the point that the space that lacks heart, and on the other, you don't want to repeat the mistakes of a previous, poorly-designed kitchen. According to interior designer Darren Palmer, a contemporary kitchen should have 5 working zones, plenty of power-points for benchtop appliances and charging devices as well as hard-wearing surfaces that can endure wear and tear. Here are 10 examples of stunning farmhouse kitchen designs that get the balance right. From a coat of paint to starting from scratch, these kitchens embrace the country way with modern life in mind.
1. SMALL FARMHOUSE KITCHEN DESIGN
What this small kitchen in Ballarat, Victoria, lacks in space, it makes up for in good looks. Pink handcut tiles and paint brighten the space, while the use of underbench curtains in lieu of cabinet fronts brings a charming cosiness to the room." It's an inviting, cheerful space to be in," says owner Kirby Kaye, who made small improvements to the property with her husband Jack after purchasing it last year. "The pink tiles are beautiful; you can't help but touch them. And I love the way the brass taps are beginning to patina with age."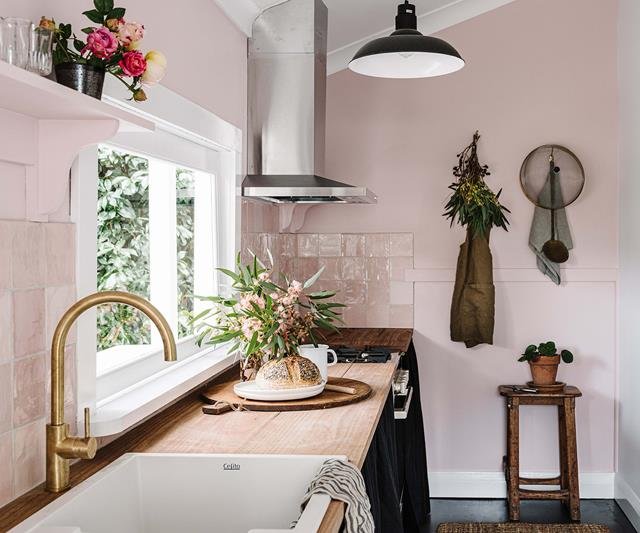 This being a part-time home (the couple rent the property, called Settler & Sons, to guests when they are not using it), they chose to forgo a large refrigerator in favour of more bench space, and added a servery window that opens to the garden."Despite being narrow and tucked away at the back of the house, it's a great space for entertaining," says Kirby.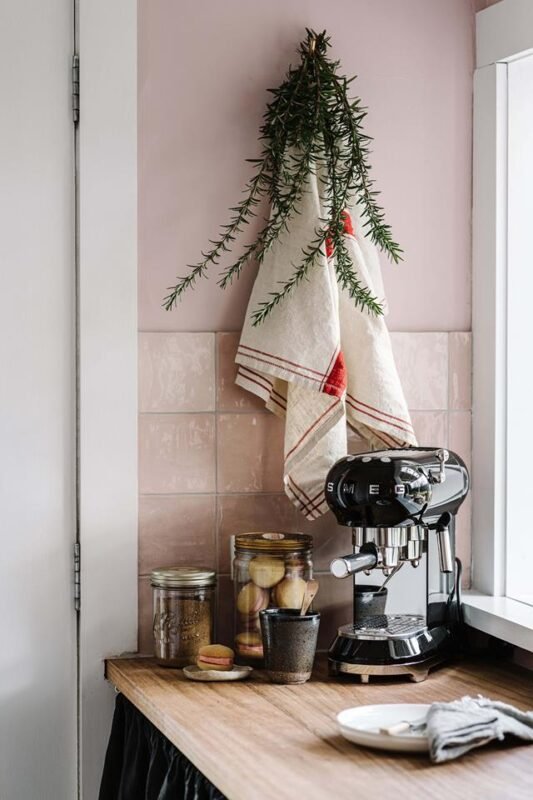 2. CLASSIC NAVY CABINETRY
Nikki and Luke Hobbs started out with a bland 1990s brick home bought solely for its location in the Queensland town of Canungra. But the couple – who own Hobbs Building & Interiors – made sure their new home didn't stay bland for long.Soon the beige cabinets and aluminium windows had made way for a beautiful two-tone farmhouse kitchen.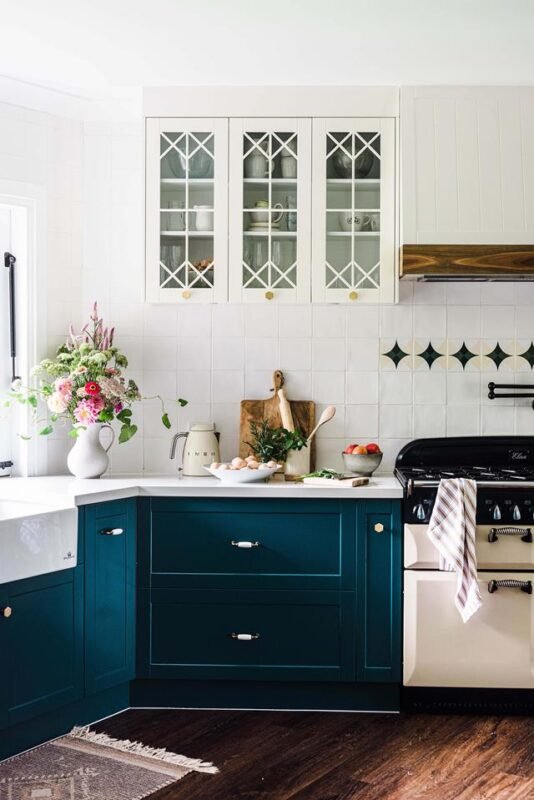 "We opted to keep the existing floor plan," explains Nikki, although that was almost all they kept, replacing the electrics and flooring and adding timber gas strut windows and custom cabinetry. They also moved the foyer wall to accommodate their dream oven."The entire kitchen was designed around the freestanding Falcon oven we fell in love with many years ago," says Nikki. "When we spotted the discontinued floor-stock item on sale, we knew it was meant to be!"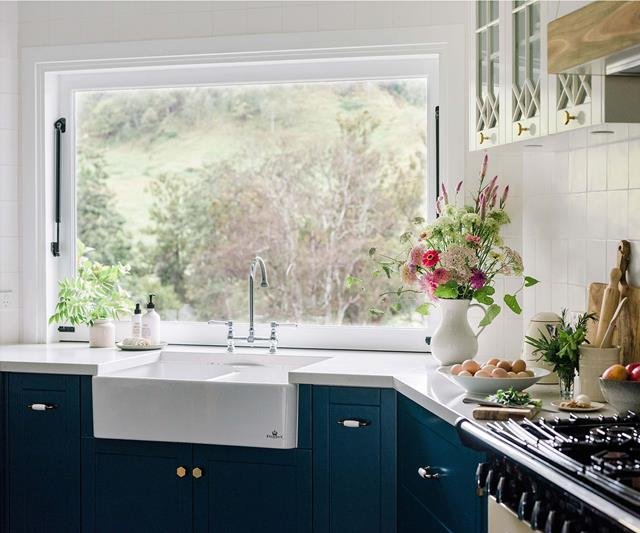 3. THE ENTERTAINER'S DREAM
If you're thinking you'd like to see this charming kitchen in real life, you can – it's the happy hub at Sinclairs of Berry, an Airbnb belonging to Caroline and Hilton Sinclair. "We kept
the colours light but the details strong," Caroline says. "Our main objective was to create a beautiful, functional space where friends and family can share time together."
With large groups in mind, everything has been designed to scale, with Hilton, a builder by trade, the driving force. The large oven and chimney surround are the focus, with little storage nooks for cosy character. And a huge central island doubles as workspace and eating area."We ordered the largest single piece of Smartstone we could get and then Hilton made the underbench structure to fit it," Caroline says. "We love its simplicity; it's huge but not bulky."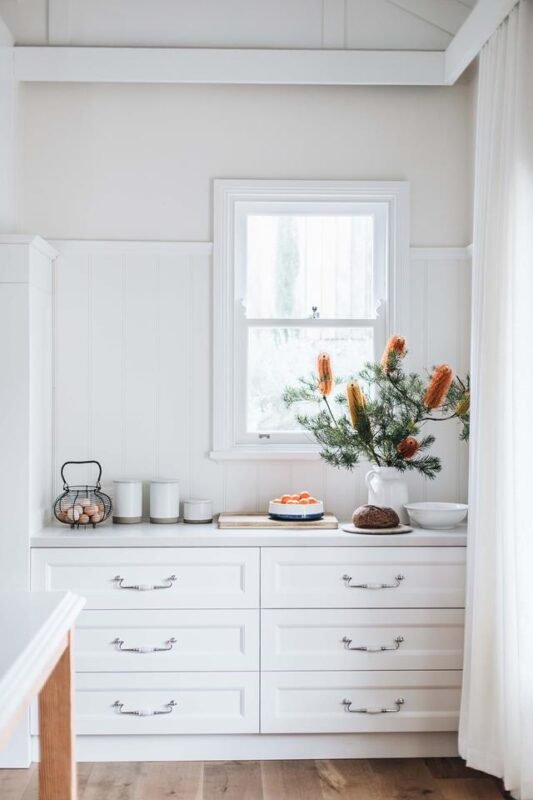 4. MODERN COUNTRY KITCHEN
Jenny Paul is a keen cook so a beautifully light kitchen was high on the renovation list when she and her partner Allan bought a house in the town of Milton on the NSW South Coast."The 1880s house was so dark and gloomy and we just wanted to lighten up the place with some modernity but still a classic country feel," explains Jenny.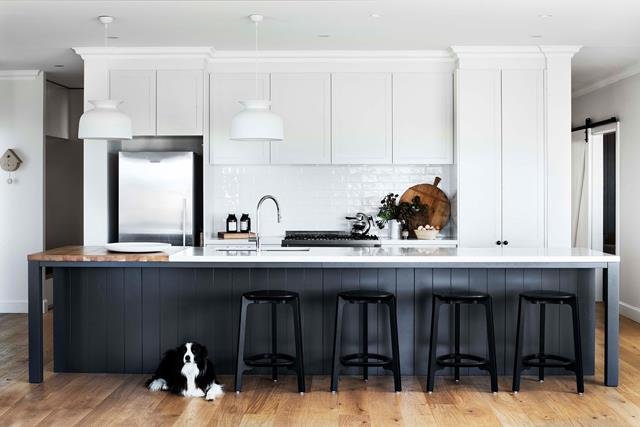 Housed within a new two-storey extension is an open-plan kitchen with enough character and charm to meld with the original cottage.Jenny consulted with interior designer Christina Prescott on the design details, selecting a striking sweep of Dulux Mt Eden for the island bench "for a bit of oomph and to ground the room", with a paler grey Dulux Wairakei double-strength on the cabinets.She used white surfaces such as Smartstone in Arcadia and the splashback features handmade white tiles from Surface Gallery.Black stained stools sit at the bench lit by feature pendant lights — both from Cult — and engineered oak flooring in a warm timber grain ground the entire look.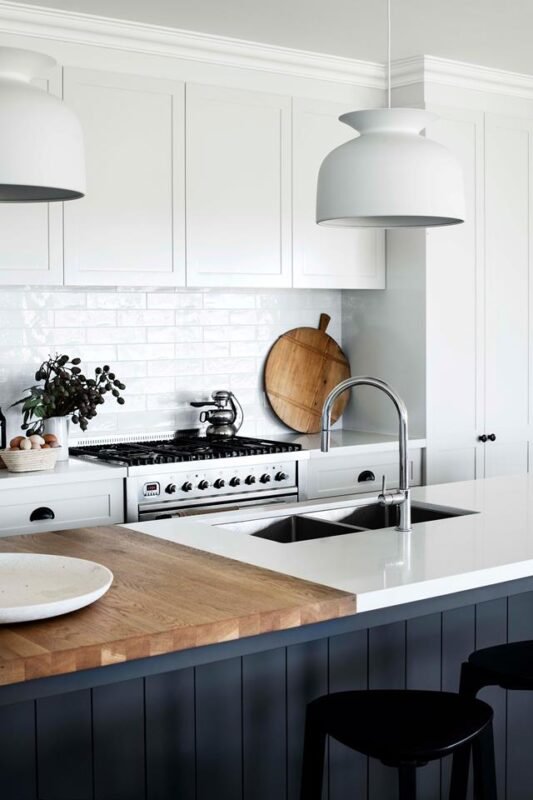 The kitchen living area conveniently overlooks the vegetable garden and the chicken coop, while a highly productive orchard is close by."We have 20 chickens of every assortment and at first we thought we'd have to move the chicken house from view, but now we love looking at them.
5. RUSTIC COUNTRY KITCHEN
Bridget McIntyre favours a timeless country style so when she and husband Anthony McDonald began extensive renovations on their Tudor-style home in Narbethong, Victoria, she pinpointed the kitchen as an easier project.Apart from a fresh coat of paint, little has changed in the space, which boasts an open hearth with exposed bricks and a splashback of imported blue-and-white French tiles.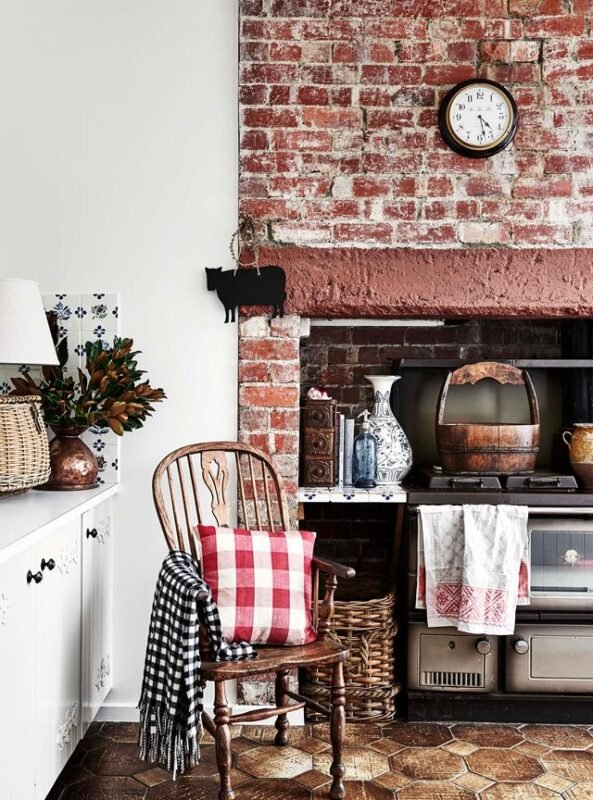 "When we bought the farm the kitchen had yellow pine cupboards and heavy black hinges," Bridget recalls."It was hideous but the rest of the house was such a huge job that we just painted the walls and cupboards in Porter's Paints Donkey Grey half- and quarter-strength, including the black hinges, put in some new benchtops and a sink… A fresh coat of paint was all it needed. It really gave it a whole new look!"Bridget, a former TV travel presenter, has also added "bits and bobs that I've collected on my travels, and at markets and country stores throughout Victoria".A blue-and-white vase came from a trip to Italy while she picked up an antique soda- water siphon at a flea market in Buenos Aires.Wooden drawers from an old Singer sewing machine hold garlic and onions.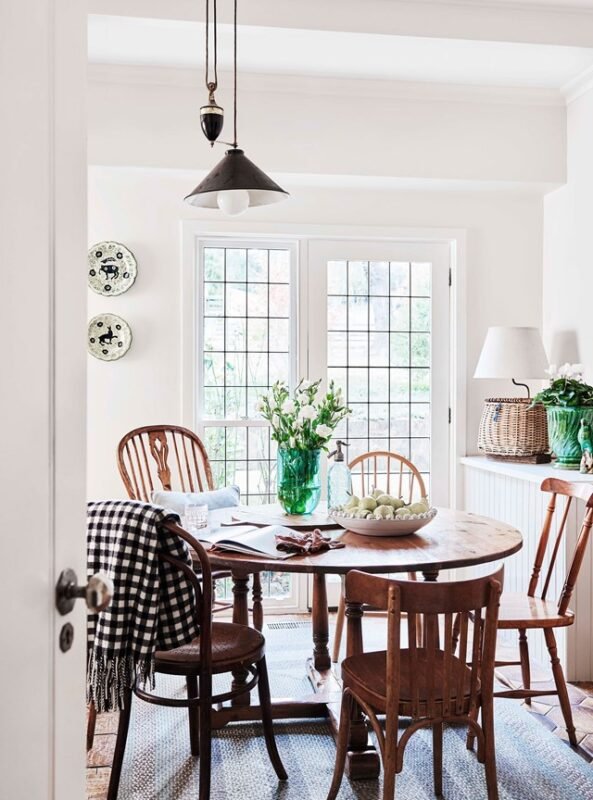 The result is a welcoming space for family to congregate around the wood-fire stove."It's a Stanley from Ireland, and we use it to cook and for heating. With three boys and often a houseful of guests, there's many a pancake or a batch of bacon and eggs being rolled out in here!"
6. CONTEMPORARY KITCHEN WITH BUTLER'S PANTRY
Rebecca and Ryan McDonald considered the needs of their young family when they designed the kitchen for their new home near the Queensland town of Goondiwindi.The central island bench comfortably seats their four children, while the kitchen servery window links to the enclosed verandah, where they eat breakfast in summer."Everything is connected and open," explains Rebecca. "We can open the double cavity window slider along the servery to the deck and barbecue area."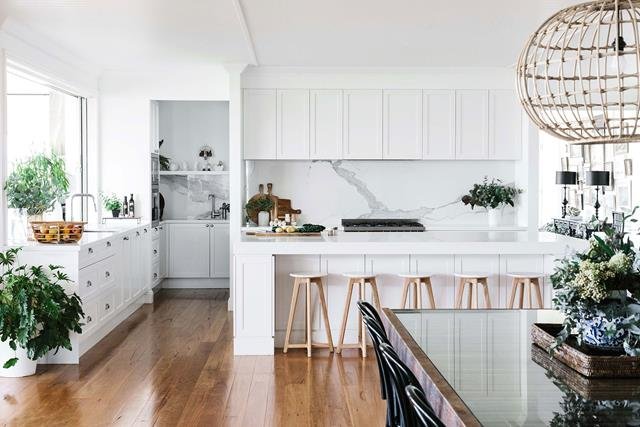 The couple paired shaker-style cabinetry featuring a crisp two-pack polyurethane finish in Dulux Vivid White from Tech Designs with a striking splashback in Quantum Quartz Statuario Six+ from Stone Services.An appliance tower with coffee machine and microwave is located close to the servery's double sink."Everything has a place, concealed away with appliances plugged in and ready to use," Rebecca adds. "I do all the school lunch preparation in the pantry close to the fridge."Nearby, a walk-in coldroom with internal and external doors allows the family to unload groceries and supplies via the carport.
The three-metre-long island bench also features storage on each side."I wanted it be a statement piece, more like a piece of furniture."Most importantly, the kitchen connects the dining and living areas to the deck, ensuring this busy mother of four is never far from the action.A butler's pantry with open shelving and study nook provides extra storage and means the front workspace is free of clutter.